You may not be able to tell by looking at me now, but I used to be a runner. Because of that I paid close attention to what I ate.
Until race day.
The one thing I looked forward to the most was the post race expo. I knew what booth I would spend most of my time around. Dripping in sweat, muscles burning from lactic acid I would always find my way to the Great Harvest Bread Company of Acadiana tent and eat my weight in bread and pastry samples. I hated being "that guy" eating all the free samples, but their breads and treats were just so addictive.
Sad to say I eventually stopped distance running. That also meant that I stopped having my post race tradition. It wasn't until recently that I stepped foot into this marvelous bakery, and I already want to go back for more confections, chai, and conversation. I don't normally write about chain restaurants, but this one just doesn't feel corporate or cold.
When we walked in, we were greeted by two pleasant forces; the smell of fresh baked love and the excellent customer service of Dallas Begnaud. If nothing else, you should visit Great Harvest just to have a conversation with him and the rest of the friendly staff.
*Photo taken of banner hanging in dining area
You feel like you are an old friend with the rapport you instantly build with them. I guess it is hard to be upset in a place that is so delicious. It's just happy. Customers walk in and are greeted by first name and pick up their regular orders. The bakery is reminiscent of that little bar where everybody knows your name.
[Take a minute and sing that little tune in your head...or aloud if you're feeling it!]
After a few samples, we painstakingly narrowed our choices down to three items and decided to share them all.
I ordered an iced chai latte to wash it all down.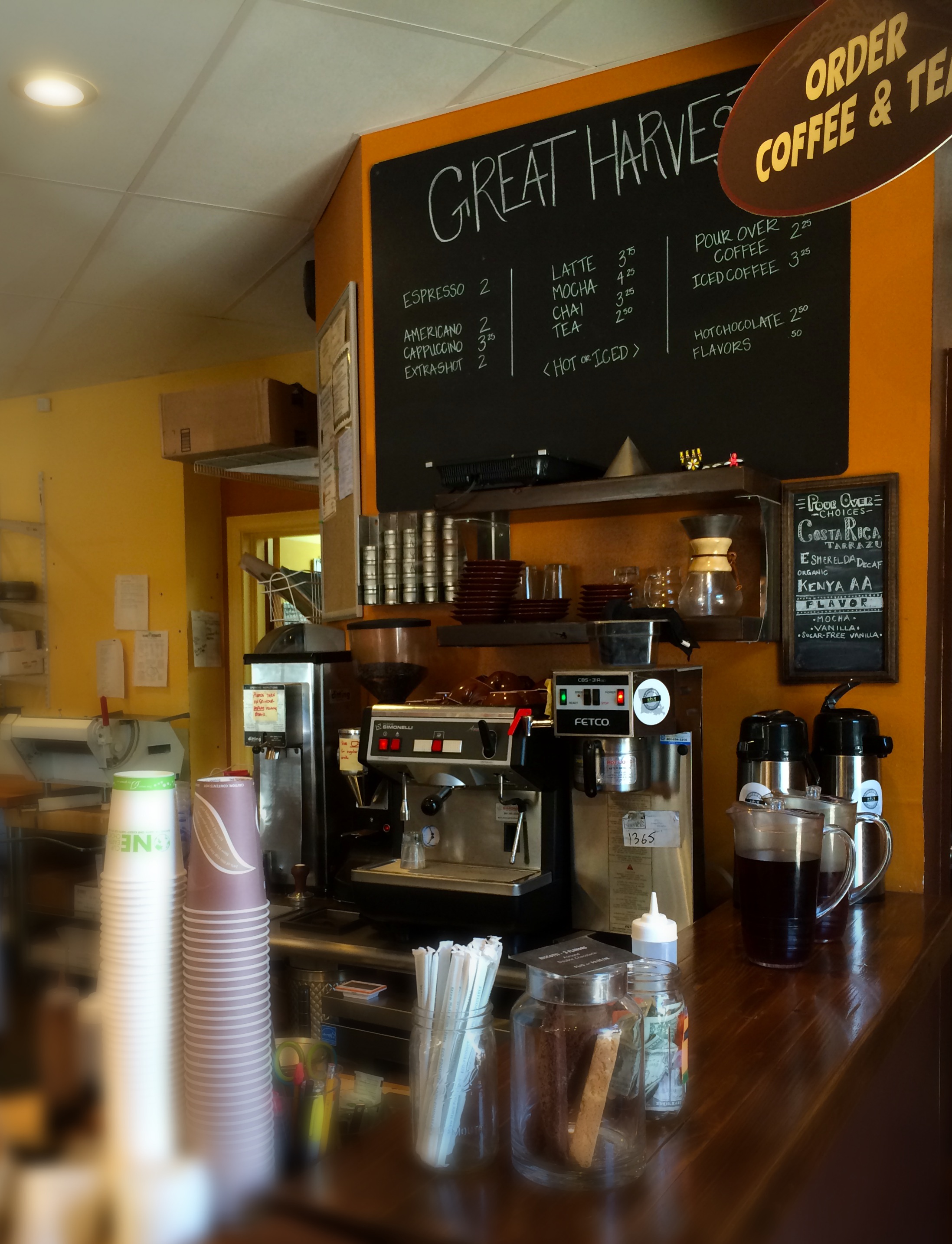 My toddler companion naturally chose the warm cinnamon roll that was covered in cream cheese icing. It was huge; almost the size of his 4 year old head.
​
I had to beg him for a taste, and snuck another taste when he looked away and took a sip of water. Being the good parent that I am, I advised him to not eat the whole thing and to save some for later. Too bad I just polished it off while writing this.
My wife and I split two items: the Peachy Keen Muffin and the Turtle Bar. The Peachy Keen is a delicate blend of peach and cardamon with hints of other spices. It tastes seasonal and you just know, that with its chunks of fresh peaches in every bite, it won't be around much longer.
​
That is a fact that Dallas unfortunately confirmed. If you are a peach fan like I am, make your way to Great Harvest as soon as possible; the Peachy Keen will only be in rotation for a few more weeks.
​
The Turtle Bar was a sweet, sticky, gooey paradise. Each bite melted slightly in your mouth giving just enough texture to make you slow down and enjoy something you would otherwise devour in the drop of a hat. Chocolate, caramel, and pecans held together with condensed milk on a chewy granola crust. How can you go wrong?
​
Take the time to visit this sweet (literally) little place. Also serving a wide selection of sandwiches for lunch from 11a-2p, Great Harvest is an "Eat This, Lafayette" local hot spot.
Visit their Facebook page
here
and their
website
for hours, bread/lunch menus, and a calendar of what baked goods are available each day.
Great Harvest Bread Company of Acadiana
854 Kaliste Saloom Rd.
337.236.8966